Discover the perfect weekend getaway in Amador County, California, a charming wine country destination located a short drive from Sacramento. It offers something for everyone, from romantic escapes with your significant other to fun-filled weekend with friends. With over 50 wineries, scenic hiking trails, historic sites, and delicious dining options, Amador County is the perfect destination for a relaxing weekend.
Wine Tasting
Wine tasting is a must-do activity for any visitor, and Belledor Vineyards is a winery that should be on the top of your list. Located in the heart of the Shenandoah Valley, Belledor offers a relaxing and picturesque environment for wine enthusiasts and nature lovers. Our winery has a beautiful lawn area where visitors can relax, play lawn games, and enjoy a picnic with friends. Belledor's patio and Adirondack chairs are perfect spots to enjoy a glass of award-winning wines while overlooking our lake, which is filled with all types of wildlife. Be sure to add Belledor Vineyards to your Amador County itinerary for a memorable wine tasting experience.
Gold Mining History
Explore Amador County's rich history by visiting some of the area's historic sites. The Kennedy Gold Mine, in operation from 1860 to 1942, produced over 34 million dollars in gold. Visitors can take a guided tour of the mine and learn about the mining process, the equipment used, and the life of miners during the gold rush era. The Amador County Museum in Jackson houses a fascinating collection of artifacts and exhibits showcasing the area's rich history, including exhibits on Native American culture, the gold rush, and life in the 1800s. Exploring Amador County's historic sites is an excellent way to gain a deeper appreciation for the area's fascinating history and culture.
Panning for gold is an exciting way to experience the history of Amador County. Roaring Camp offers a fun and family-friendly environment for all, with tent camping, cabins, guided tours, a museum, and an active Placer mine. You can even hike the trails used by the 49ers during the Gold Rush. And of course, there's plenty of opportunities to pan for gold in the Mokelumne River.
The Great Outdoors
Are you a hiking fan? Well look no further! Amador offers plenty of hiking opportunities for fans of the great outdoors. Whether you're an experienced hiker or a beginner, there's a trail for everyone in Amador County. For more challenging hikes, head to the nearby Mokelumne Wilderness, which boasts over 100 miles of trails with stunning views of alpine lakes, meadows, and granite peaks. Lake Tabeaud, located just east of Jackson, is a beautiful spot for hiking and enjoying the outdoors. The lake is located in a scenic valley and surrounded by rolling hills covered in oak and pine trees. Hiking trails wind around the lake and offer stunning views of the water and surrounding landscape. Visitors can also enjoy fishing for bass, catfish, and trout in the lake, or take a relaxing paddle in a kayak or canoe. So, pack your backpack and hit the trails for a day of outdoor adventure in Amador County.
If hiking seems too intense and you'd rather take a leisurely stroll then Amador Flower Farm is for you! Visitors can wander through the fields of colorful flowers and enjoy the fresh air and stunning views. Amador Flower Farm is also a great destination for holidays, especially Halloween where you can find pumpkins and scarecrows waiting to greet you. What more could you ask for in the perfect weekend getaway!?

Underground Adventures
If you're looking for a unique underground adventure, look no further than Black Chasm Cavern. Located just outside the charming village of Volcano, this living cave is home to a stunning array of natural formations, including rare and sparkling helictites.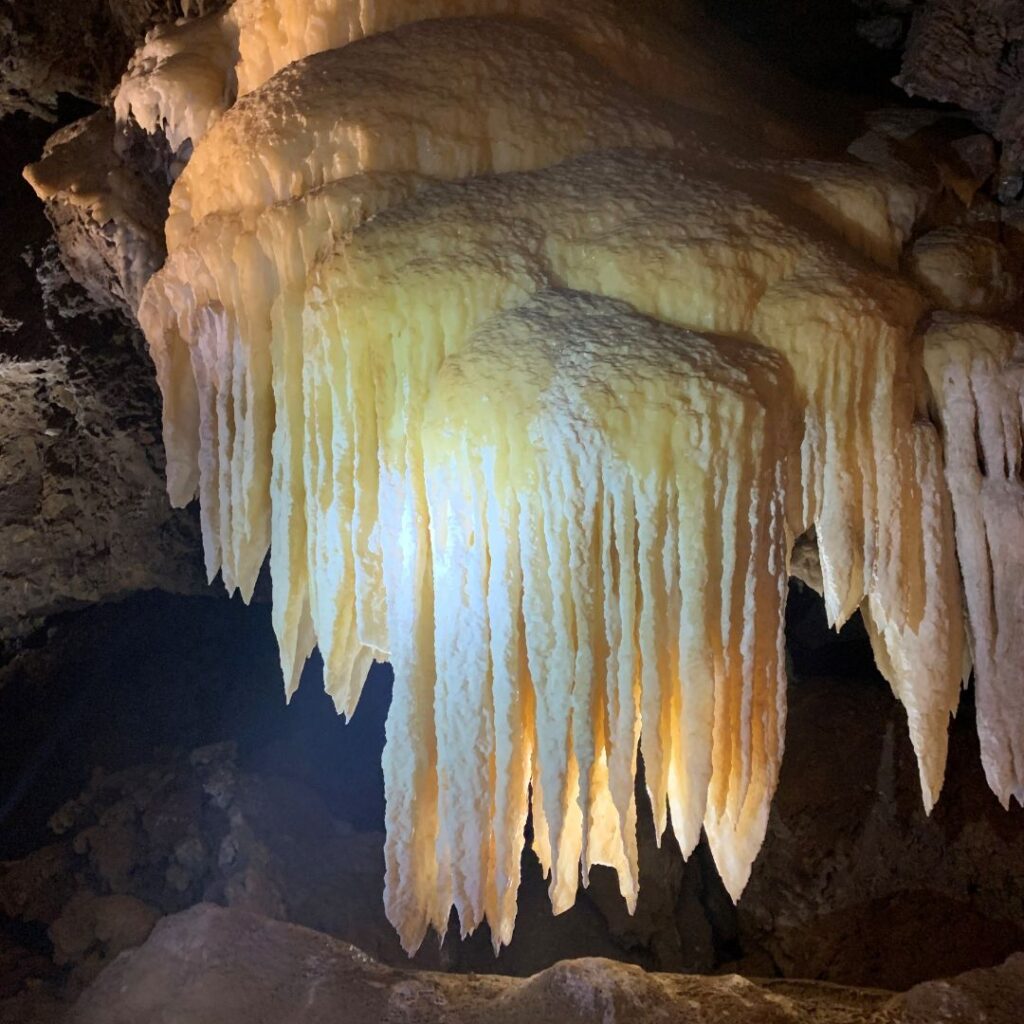 The cave has been thoughtfully developed with a platform, stairs, and walkway system that enhances the underground experience while protecting the fragile cave floor. Visitors can take a 50-minute guided walking tour through the caverns, descending a series of stairs and walkways to marvel at the mesmerizing formations. Black Chasm Cavern was even named a National Natural Landmark in 1976 by the National Park Service, a testament to its unique and breathtaking beauty. Don't miss this one-of-a-kind underground adventure!
Time to Dine
Amador County has an abundance of dining options to satisfy any appetite. For an award-winning fine dining experience, Taste restaurant is a must-visit. Located just minutes from Amador wineries, the restaurant offers a seasonally inspired menu with a selection of local and worldly wines and beers. Walk-in service is available at the wine and food bar, but reservations are suggested for the dining room.
If you're looking for something more casual, Tin Roof Wine Café is the perfect spot. Their menu is constantly changing, but always includes creative bites with classic Italian flavors and local ingredients. They offer a variety of boards to share, such as the Crush board with salami, hard and soft cheeses, nuts, seasonal berries, hummus, and crackers.
Bistro 49 is another excellent option, with a focus on locally-sourced ingredients and creative twists on classic dishes. Executive Chef KC Brown sources fresh ingredients from their own local farm and farmer's markets, ensuring that you're always getting the best of the season.
Amador County has plenty of activities to keep you entertained on a during your perfect weekend getaway. Spend the day wine tasting, hiking, or exploring historic sites. No matter what you choose to do, you're sure to have a great time in this beautiful wine country destination.