Are you ready to embark on a delightful journey to Belledor Vineyards? With its breathtaking park setting, picturesque lake, and abundant wildlife, Belledor offers the perfect backdrop for crafting the perfect picnic experience. As you sip on a bottle of Belledor wine and soak in the beauty of the surroundings, we invite you to indulge in the art of crafting the perfect picnic lunch. Join us as we explore the essential items to include in your picnic basket, ensuring a delightful and fulfilling visit to Belledor.
Freshly Baked Baguettes & Artisanal Cheeses:
Start your picnic off on a delicious note with a crusty baguette and an assortment of artisanal cheeses. The combination of a perfectly baked baguette with creamy brie, tangy cheddar, or nutty Gouda is a match made in picnic heaven. At Belledor Vineyards, we believe that the pairing of these delectable flavors with our exceptional wines will elevate your tasting experience to new heights.
Gourmet Charcuterie Selection:
Enhance your picnic spread with a selection of gourmet charcuterie. Delicate slices of prosciutto, salami, or smoked ham will tantalize your taste buds and provide a savory accompaniment to your cheese and wine. Remember to pack some cornichons, olives, or pickled vegetables for that added burst of flavor. Additionally, the briny tang of cornichons, the richness of olives, or the crunch of pickled vegetables will perfectly complement the flavors of the charcuterie.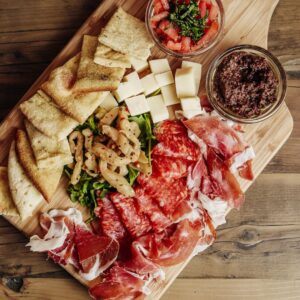 Fresh Seasonal Fruits:
Celebrate the abundance of nature by including an array of fresh seasonal fruits in your picnic basket. Juicy strawberries, sweet watermelon slices, or crisp apple wedges are not only refreshing but also provide a burst of natural sweetness to balance the richness of your cheese and charcuterie
Vibrant Salad Delights:
Add a touch of freshness and crunch to your picnic with a vibrant salad. Opt for a mix of crisp greens, fruit, cherry tomatoes, cucumber slices, and your choice of dressing. Consider incorporating local, seasonal produce to celebrate the flavors of the region and complement the exquisite taste of Belledor wines. Imagine the delightful combination of a vibrant salad featuring locally grown foods perfectly paired with a Belledor wine, as you soak in the breathtaking views of the vineyards.
Delectable Finger Foods:
For a delightful grazing experience, include an assortment of finger foods in your picnic basket. Bite-sized quiches, stuffed mushrooms, or homemade bruschetta can be the perfect accompaniment to your Belledor wine, allowing you to savor each sip while enjoying the flavorsome bites.
Must Have Desserts:
Complete your picnic on a sweet note with indulgent desserts. Consider packing homemade treats like brownies, fruit tarts, or chocolate-dipped strawberries. These delectable delights will provide the perfect ending to your Belledor picnic experience.
As you prepare to visit Belledor Vineyards and immerse yourself in its idyllic park setting, creating the perfect picnic lunch is an essential part of your adventure. With a thoughtfully curated basket, including freshly baked baguettes, artisanal cheeses, gourmet charcuterie, fresh seasonal fruits, vibrant salads, delectable finger foods, and decadent desserts, you can fully indulge in the pleasures of Belledor's natural beauty while savoring the exceptional flavors of our wines. We invite you to relish the tranquility of the lakeside, enjoy the company of wildlife, and create unforgettable memories as you share a bottle of Belledor wine and a perfect picnic with loved ones. Cheers to a delightful day at Belledor!