If you're on the hunt for an exceptional winery experience in Amador, look no further than Belledor Vineyards. Voted the Best Winery in Amador by Sacramento Magazine and recognized as the Best New Business in Amador by the Ledger Dispatch, Belledor is the crown jewel of family-owned vineyards in this picturesque region. Belledor invites you to explore the enchanting world of Belledor Vineyards, where rolling vineyard hills, a serene pond, and award-winning wines converge to create a truly memorable experience.
The Belledor Experience
At Belledor Vineyards, the experience begins the moment you arrive. Nestled amidst the stunning Amador landscape, this family-owned winery offers a unique blend of natural beauty and exceptional craftsmanship. Guests are greeted with breathtaking views of rolling vineyard hills, a tranquil pond, a one-of-a-kind tasting room and the promise of a delightful journey through their wine offerings.
Award-Winning Wines
Belledor Vineyards has garnered acclaim for its outstanding wines. From robust reds to crisp whites, their extensive wine list boasts a variety of options that cater to every palate. Looking for something unique to try? Belledor offers a Barbera Blanc, Verdelho and some crafty Red Blends.
The accolade of being the Best Winery in Amador by Sacramento Magazine speaks volumes about the quality of Belledor's wines. Each bottle is a testament to the dedication and passion of the winemakers, resulting in flavors that dance on your taste buds and linger in your memory.
Exceptional Service and Warm Hospitality
At Belledor Vineyards, wine tasting is more than just sipping; it's an experience of hospitality and warmth. The friendly and knowledgeable staff are always ready to guide you through your wine journey, offering insights into the winemaking process and the unique characteristics of each vintage. Whether you're a novice or a wine enthusiast, you'll feel right at home.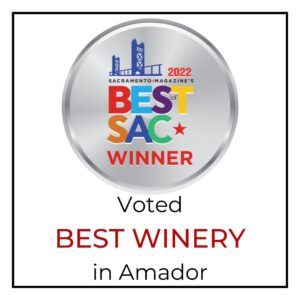 Belledor: Not Just a Winery, But a Destination
While the award-winning wines are reason enough to visit Belledor, the vineyard offers much more. The picturesque pond serves as a serene backdrop for your wine-tasting experience. Imagine sipping on a glass of Belledor's finest while relaxing pondside, surrounded by the beauty of nature. In addition to the amazing pond vibes, Belledor also offers a large lawn perfect for picnicking as well as some delightful lawn games.
Awards and Accolades
Belledor Vineyards' recognition as the Best Business by the Ledger Dispatch is further proof of their commitment to excellence. It's not just about producing remarkable wines; it's about providing an unforgettable experience that leaves guests wanting more.
For those seeking fun and memorable things to do in Amador, Belledor Vineyards should be at the top of your list. If you're a wine enthusiast, a nature lover, or simply looking for a tranquil escape from the hustle and bustle of everyday life, Belledor has something special to offer.
Belledor Vineyards has earned its place as the Best Winery in Amador for a reason. The combination of exceptional wines, stunning views, and unwavering dedication to guest satisfaction makes Belledor a must-visit destination in the heart of Amador wine country. Come and savor the flavors, soak in the splendor, and create lasting memories at Belledor Vineyards.