Looking for a unique and delightful way to celebrate the 4th of July holiday all month? Belledor has crafted an exciting Wine and Popcorn pairing experience called "Red, White & Pop." Join us as we take you on a journey of flavor exploration, combining the irresistible crunch of popcorn with our exquisite Belledor wines. From tangy to savory to sweet, these popcorn flavors have been carefully selected to complement and enhance the characteristics of our wines. Get ready to indulge in a memorable experience that celebrates the perfect blend of fun, flavors, and festivities.
Dill Pickle Popcorn paired with 2019 Belledor Sauvignon Blanc:
Kicking off our popcorn pairing extravaganza is the classic tang of Dill Pickle Popcorn, harmoniously paired with the bright and refreshing 2019 Belledor Sauvignon Blanc. The crispness and zesty acidity of the wine complement the briny pickle flavor, creating a mouthwatering combination that tantalizes the taste buds. The popcorn's hint of dill adds an herbaceous note, further enhancing the vibrant character of the Sauvignon Blanc.
Salt & Vinegar Popcorn paired with the 2019 Belledor Rosé of Tempranillo:
Next up, we have the irresistible Salt & Vinegar Popcorn, designed to perfectly match the elegant 2019 Belledor Rosé of Tempranillo. The delicate pink hues of the Rosé mirror the playfulness of this popcorn flavor. The wine's fruit-forward profile and hints of strawberry and watermelon meld effortlessly with the tangy salt and vinegar seasoning. Together, they create a delightful dance of flavors that will leave you craving for more.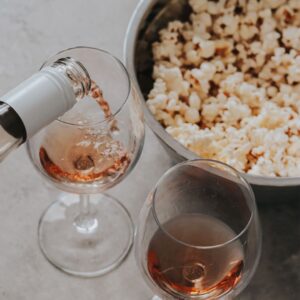 Truffle Parmesan Popcorn paired with the 2019 Reserve Tempranillo:
For the connoisseurs of gourmet indulgence, we present the Truffle Parmesan Popcorn, an irresistible treat that finds its perfect companion in our rich and robust 2019 Reserve Tempranillo. The earthy truffle and nutty Parmesan flavors of the popcorn find their match in the complex layers of blackberries, cherries, and spices present in the Reserve Tempranillo. This pairing offers a luxurious experience, where each sip and crunch unveil new dimensions of flavor.
Parmesan Garlic Popcorn paired with the 2019 Belledor Barbera:
Prepare your taste buds for a burst of savory goodness with our Parmesan Garlic Popcorn, flawlessly paired with the 2019 Belledor Barbera. The Barbera's medium body and bright acidity are a perfect match for the popcorn's bold garlic and Parmesan flavors. The wine's vibrant fruitiness, with notes of cherries and plums, strikes a delightful balance with the popcorn's savory profile, creating an irresistible combination that embodies pure indulgence.
Coconut Himalayan Salt Popcorn paired with the 2020 Backyard Zinfandel:
To conclude our Red, White & Pop pairing experience on a sweet note, we present the Coconut Himalayan Salt Popcorn, accompanied by our 2020 Backyard Zinfandel. The tropical coconut undertones of the popcorn beautifully complement the fruity, jammy notes of the Zinfandel. The wine's gentle sweetness and soft tannins accentuate the popcorn's unique flavors, creating a harmonious union that wraps up our pairing adventure with a delightful flourish.
At Belledor, we believe that a celebration is made even more memorable when it involves the perfect combination of wine and popcorn. Our Red, White & Pop pairing offers an exciting opportunity to explore a variety of popcorn flavors paired with our exquisite Belledor wines. The fusion of these two beloved treats creates an experience that is greater than the sum of its parts. And whether you choose to experience our Red, White & Pop pairing in the lively ambiance of our tasting room or decide to recreate it at home with friends and family, you are in for a treat. This pairing is designed to ignite your sense of adventure and add a touch of whimsy to your celebrations, especially during the 4th of July holiday.

Cheers to an unforgettable celebration of wine, popcorn, and the pleasures of life. We look forward to welcoming you to Belledor, where every moment is infused with delight and every pairing tells a story of culinary magic.