Charcuterie boards have become a popular staple for entertaining guests and creating a beautiful, Instagram-worthy spread. Whether it's a casual get-together with friends or a formal gathering, a well-curated charcuterie board is sure to impress. But with so many options for meats, cheeses, fruits, nuts, crackers, and even wine pairings, it can be overwhelming to know where to start. In this Charcuterie Board 101 guide, we'll walk you through the basics of building the perfect charcuterie board, including pairing it with Belledor wine and highlighting the best types of cheese, fruit, dried fruit, nuts, olives, meats, and crackers to use. We'll also cover different cheese cutting techniques to make the board diverse and ways to add dimension to the board with accents. So whether you're a charcuterie board newbie or a seasoned pro, keep reading for tips and tricks to create a stunning and delicious charcuterie board.
The Basics
Begin by selecting a large wooden or marble board or platter. Wooden boards are more traditional and lend a rustic charm to your presentation, while marble platters offer a sleek, modern aesthetic. Choose a board that is large enough to hold all of your ingredients and leave some room for accents.
Cheese is a crucial element of any charcuterie board, and selecting the right types is vital.
Offer a variety of cheese textures and flavors, including soft, creamy cheeses like Brie or Camembert, firm cheeses like Cheddar or Gouda, and hard cheeses like Parmesan or Aged Cheddar.

 Aim for 3-5 different cheeses for variety. Some excellent pairings include:

Soft Cheese: Brie, Blue Cheese, Camembert, and Goat
Semi-Hard Cheese: Cheddar, and Gouda
Hard Cheese: Parmesan, Manchego, Gruyere and Asiago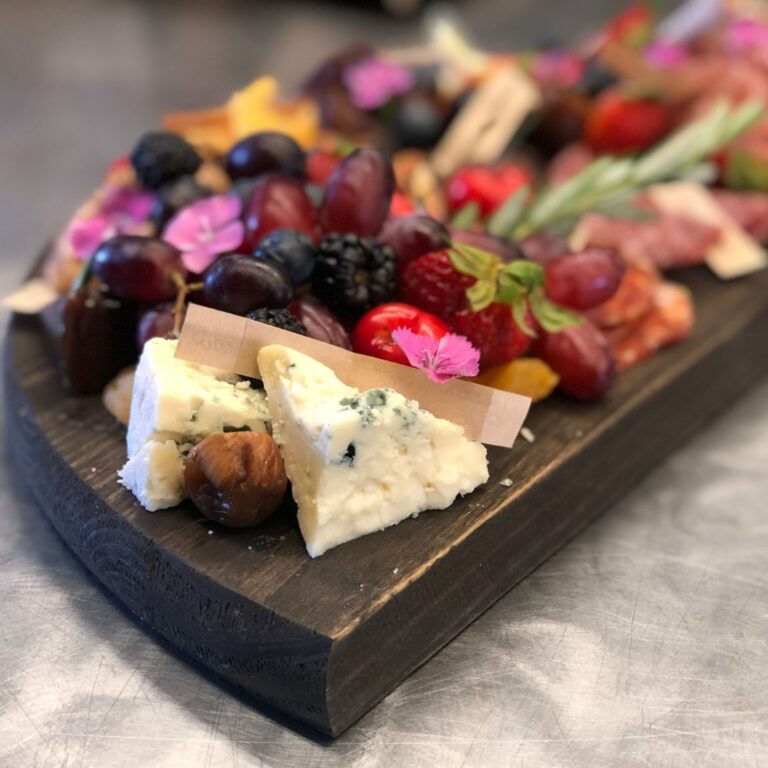 Fruit is an excellent complement to cheese, and adding a selection of fresh and dried fruits will enhance the board's flavor and visual appeal. Consider including green grapes, berries, sliced apples or pears, and dried apricots, cherries or figs.
Nuts and olives add a salty and savory element to the board. Almonds, walnuts, and pecans are excellent choices, while kalamata or green olives will provide a pop of color and flavor.
Meat is an essential part of any charcuterie board, and there are numerous options to choose from. Consider including a selection of cured meats like prosciutto, salami (spicy/or mild), ham, chorizo or even bacon. Be sure to provide a variety of textures and flavors to suit all tastes.
Crackers and bread are an essential component of the charcuterie board, providing a base for your cheese and meat selections. Choose a variety of crackers, including plain, whole grain, and herb-infused varieties. Sliced baguette or crostinis are also an excellent option.
Adding Dimension

Experiment with cheese cutting techniques such as cutting the cheese into different shapes and sizes to adds visual interest to your charcuterie board.
Wedges: Slicing cheese into thin wedges is a classic and straightforward technique that works well for softer cheeses like Brie or Camembert. To cut wedges, start at the center of the cheese and cut outwards in a pie shape, creating triangular slices.
Cubes: Cutting cheese into small cubes is perfect for harder, crumbly cheeses like Cheddar or Gouda. Cut the cheese into small squares or rectangles, around 1 x 1 cm or 2 x 2 cm.
Crumbles: Some cheeses, like Blue Cheese or Feta, are naturally crumbly and work well when crumbled on top of crackers or salads. Use your fingers or a fork to break the cheese into small, bite-sized pieces.
Shaved: Harder cheeses like Parmesan or Asiago can be shaved thinly with a cheese slicer or a vegetable peeler. The thin slices add a delicate texture to the board and are perfect for pairing with fruit or crackers.
Rolled: For softer cheeses like Goat cheese or Boursin, rolling them into small balls or logs can make them easier to serve and adds a cute, fun element to the board. Roll the cheese into small balls, then roll them in herbs or spices for added flavor and color.
Remember to mix and match these techniques to create a diverse and visually appealing charcuterie board. Offer a variety of cheese textures and flavors, and don't be afraid to get creative with your presentation. Finally, consider adding accents to your charcuterie board to make it more visually appealing. Small bowls of honey, jam, or chutney can be used to add sweetness to the board. Fresh herbs like rosemary or thyme can add a pop of color and fragrance. Don't be afraid to experiment and add your own personal touch to the board.
Pairing Suggestions
Belledor Tempranillo: This medium-bodied red wine pairs well with a variety of meats, including Chorizo, prosciutto, and salami. For cheese, try pairing it with a nutty Manchego or a bold and spicy Blue cheese. To balance out the bold flavors, add some dried fruit like figs or apricots, and nuts like almonds or walnuts.
Belledor Zinfandel: This full-bodied wine is a great match for rich and flavorful meats like pepperoni or spicy salami. Pair it with Aged Cheddar or a Smoky Gouda for a delicious contrast in flavors. Add some fresh fruit like grapes or strawberries and some salty olives to balance out the flavors.
Belledor Verdelho: This white wine pairs well with a tangy and creamy Goat cheese or a nutty Gruyere. To balance out the flavors, add some fresh fruit like sliced apples or pears and some salty nuts like pistachios or cashews.
Belledor Barbera: This medium-bodied red wine pairs well with rich and savory meats like bacon and salami. Pair it with a bold and spicy cheese like Aged Gouda or a Sharp Cheddar. To add some sweetness to the board, add some dried fruit like cranberries or cherries, and some salty olives.
Belledor Primitivo: This full-bodied red wine is a great match for a creamy and mild cheese like Brie or a nutty Asiago. To add some texture to the board, add some crunchy nuts like almonds or pecans and some fresh fruit like grapes or sliced apples.
In conclusion, creating a beautiful and delicious charcuterie board is a great way to impress guests and elevate any occasion. With the tips and tricks in this Charcuterie Board 101 guide, you now have the tools to build a perfect spread that is both visually appealing and tasty. Remember to offer a variety of meats, cheeses, fruits, nuts, and crackers, and to experiment with different pairings to find the perfect combination for your taste. By incorporating different cutting techniques and adding accents to the board, you can create a diverse and eye-catching spread that is sure to wow your guests. So grab a glass of wine, get creative, and enjoy building your own perfect charcuterie board!